Dynamics AX to Dynamics 365 Finance Migration Services
Services
Microsoft Gold Partner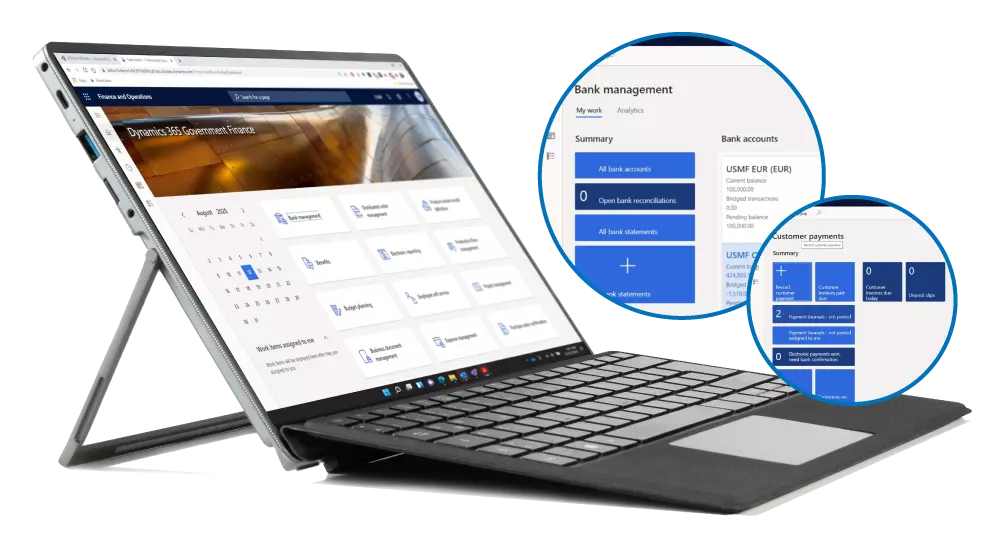 Why upgrade from Dynamics AX to Dynamics 365 Finance
Microsoft Dynamics 365 Finance is, at its core, Dynamics AX reimagined as a cloud-native application. Dynamics 365 Finance is hosted in the secure Azure cloud and licensed on a full SaaS model (Software-as-a-Service) – billed as a monthly subscription.
This powerful ERP software has been recognized by Nucleus Research as a leader in the 2022 Enterprise ERP Value Matrix.
Save 40% on licensing when you make the switch.
From now until December 31, 2024, Dynamics AX customers can get a 40% discount on Dynamics 365 Finance licensing with a Cloud Solution Provider (CSP) partner-led migration.
The discount is valid for commercial customers only (excludes government and education customers) with an existing on-premises system and active Enhancement Plan. Arctic IT is an experienced Microsoft CSP who can help you qualify with your migration project.
"*" indicates required fields
The last major ERP upgrade you'll ever need.
Upgrading from Dynamics AX to Dynamics 365 Finance can provide numerous benefits to your organization.
The proof is in the numbers. A recent Total Economic Impact™ study by Forrester Consulting found that Dynamics 365 Finance delivered an ROI of 122% over three years with a 9-month payback.
Predictable and Flexible Cost
There is a predictable monthly price that includes maintenance and infrastructure costs, which means no more surprise upgrade costs. The flexibility in license types and data storage allows you to adapt to change easier as your business grows.
Always on the Latest Version of the Solution
Take advantage of the latest technology as it becomes available – instead of waiting for budget to support it. Two major updates, also known as Wave Releases, are made available each year for deployment on your selected schedule along with smaller monthly releases that are optional to deploy. This evergreen solution eliminates the need to upgrade, which is something that costs additional time and expense in Dynamics AX.
No More Infrastructure Management
Dynamics 365 Finance is in the cloud, so you'll never again have to manage or purchase new infrastructure or patch your ERP solution.
Security is Managed by Microsoft
Dynamics 365 Finance has built-in security features and compliance controls to help protect your data and ensure that your organization meets regulatory requirements. With a cloud solution, security monitoring and threat management are managed by Microsoft. This allows your business's IT resources to focus their efforts elsewhere by decreasing the dependency on IT. You'll have peace of mind knowing all production environments are backed by Azure High Availability disaster recovery and service level agreements.
Better Integration with Other Microsoft Products
Integrate seamlessly with Excel, Outlook, Word, the Power Platform (Power BI, Power Automate, Power Apps, Power Virtual Agents), and other Dynamics 365 solutions such as Sales or Customer Service.
Work from Anywhere, on Any Device
This empowers a mobile workforce with access to the same tools found in desktop application versions. The user experience is consistent and secure across all devices and operating systems (Android, iPhone, etc.).
Gain Predictive Insights and Analytics
Get an accurate end-to-end view of your business. Dynamics 365 Finance includes embedded analytics and AI capabilities that can help you gain insights into your business operations and make data-driven decisions.
Improve User Experience
Dynamics 365 Finance has a modern user interface that is easy to navigate and use. This can improve user adoption and productivity.
Dynamics AX is no longer supported by Microsoft.
Extended support for the latest Dynamics AX 2023 R3 ended on January 10, 2023. This means you will no longer continue to receive regulatory updates or security hotfixes for any version of AX software, leaving you vulnerable if issues arise.
| | | |
| --- | --- | --- |
| Dynamics AX Version | Mainstream Support End | Extended Support End |
| AX 2009 | October 9, 2018 | April 12, 2022 |
| AX 2012 | October 9, 2018 | April 12, 2022 |
| AX 2012 R2 | October 9, 2018 | April 12, 2022 |
| AX 2012 R3 | October 12, 2021 | January 10, 2023 |
See the difference between Dynamics AX and Dynamics 365.
If you're ready to make the move to Dynamics 365 Finance, contact us today for a discovery call and receive a complimentary quote.
"*" indicates required fields
Why choose Arctic IT for my Dynamics 365 Finance migration?
In most cases, your in-house team will need the support of experts in Dynamics 365 migration to make your project successful, which is where Arctic IT comes in.
With over 20 years of implementing Microsoft business applications for businesses and government entities, we have the experience to lead a successful Dynamics 365 migration for your organization. Our team includes a Microsoft Fast Track Recognized Solution Architect, a designated Microsoft Most Valuable Professional (MVP), and a Microsoft Certified Trainer. In addition, our staff has completed over 200 exams towards active Microsoft certifications.
Arctic IT will partner with you to make sure you receive the support you need along the way. We bring our vast industry knowledge, management expertise, training and support solutions, and implementation methodology best practices to the table.
When you choose Arctic IT for your Dynamics 365 Finance migration, you can expect quality professional services with a quality end product. Arctic IT provides its employees with a path to greater pay, recognition, and responsibility. We mitigate employee migration to competing organizations by providing a supportive corporate culture, motivating work environments, performance-based incentive programs, and competitive salaries based on extensive and real-time research. In nearly all cases, the Arctic IT personnel assigned to a contract on day one of contract award are the same personnel at project close-out.
After go-live, our U.S.-based support team is available 24/7 to answer your how-to questions and help with application issues as they arise. Our managed application services also include ongoing training, software maintenance, and annual strategy sessions with your designated National Service Delivery Manager to ensure your technology roadmap is modern, relevant, and efficient.
Team up with Arctic IT for your Dynamics AX to Dynamics 365 Finance migration.