Dynamics 365 Finance Implementation
Services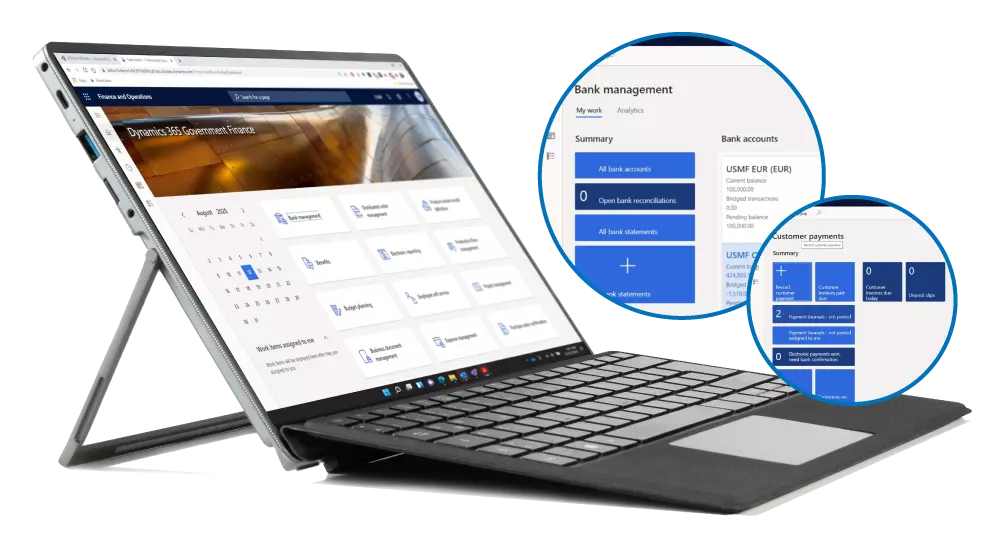 Professional implementation services for Microsoft Dynamics 365 Finance
Arctic IT is an experienced Microsoft CSP with over 20 years of experience implementing scalable business applications for businesses and government entities. If you're ready to upgrade your ERP system to Dynamics 365 Finance – we'll help you meet your budget and timeline goals with a professional implementation from our Microsoft Gold Partner team.
Get your free consultation and price quote
"*" indicates required fields
Our team will host a discovery interview with you to learn your requirements
Our ERP expert, Matt Borkowski, will prepare a recommended approach for you including

Implementation options
Proposed timeline
Cost estimate

If we're a great fit, we will provide your team a tailored demonstration of the system and implementation plan in action
Meet Matt
Matt Borkowski is the Principal Solution Architect – ERP and Dynamics 365 Finance demo king at Arctic IT. He has over 17 years of experience working with Microsoft products.
Dynamics 365 Implementation FAQs
What is a typical Dynamics 365 Finance implementation timeline?
The next step after choosing Microsoft Dynamics 365 Finance is to define the implementation timeline, as well as the processes. The actual implementation process and timeline for Dynamics 365 may differ greatly by project, depending on the finance and procurement module(s) selected and the complexity of your organization's business processes. Most implementation timelines fall between 6-18 months.
How should I prepare for a Dynamics 365 Finance implementation?
Your Dynamics 365 Finance implementation process and strategy will involve several aspects, such as defining your goals, identifying an internal team, assessing your existing systems and tools, implementation, and evaluation.
The following best practices will help lead to a successful implementation.
Collect and document key business processes: Your ability to define the business processes that matter most to your operation are crucial to an impactful and successful Dynamics 365 Finance implementation. These processes set the foundation for optimizing workflows and driving efficiencies for the future of your organization.
Create an internal team of experienced personnel: This is critical to the execution of your plans. This team must be ready to put in their best efforts and must understand your end-to-end business process to facilitate the best outcome for your implementation. This makes sure that no step is missed in the entire process.
Monitor and evaluate your implementation: Determine how you want to measure the success of the implementation. Ideally, your internal team should be familiar with the capabilities of Microsoft Dynamics 365 Finance and Supply Chain Management and capable of identifying whether your implementation is going as planned.
Why choose Arctic IT for my Dynamics 365 Finance implementation?
In most cases, your in-house team will need the support of experts in Dynamics 365 Finance implementation to make your project successful, which is where Arctic IT comes in.
With over 20 years of implementing Microsoft business applications for businesses and government entities, we have the experience to lead a successful Dynamics 365 implementation for your organization. Our team includes a Microsoft Fast Track Recognized Solution Architect, a designated Microsoft Most Valuable Professional (MVP), and a Microsoft Certified Trainer. In addition, our staff has completed over 200 exams towards active Microsoft certifications.
Arctic IT will partner with you to make sure you receive the support you need along the way. We bring our vast industry knowledge, management expertise, training and support solutions, and implementation methodology best practices to the table.
When you choose Arctic IT for your Dynamics 365 Finance implementation, you can expect quality professional services with a quality end product. Arctic IT provides its employees with a path to greater pay, recognition, and responsibility. We mitigate employee migration to competing organizations by providing a supportive corporate culture, motivating work environments, performance-based incentive programs, and competitive salaries based on extensive and real-time research. In nearly all cases, the Arctic IT personnel assigned to a contract on day one of contract award are the same personnel at project close-out.
After go-live, our U.S.-based support team is available 24/7 to answer your how-to questions and help with application issues as they arise. Our managed application services also include ongoing training, software maintenance, and annual strategy sessions with your designated National Service Delivery Manager to ensure your technology roadmap is modern, relevant, and efficient.
Team up with Arctic IT for your Dynamics 365 Finance implementation.
When is the best time to perform a Dynamics 365 Finance implementation?
We recommend choosing a timeframe where you will not feel rushed. Avoiding times of the year that overlap major holidays or busy periods for your team will help to keep your implementation project on schedule.
Most of Arctic IT's implementations can be completed remotely, so you won't have to plan around travel or in-person meetings.
What does a Dynamics 365 Finance implementation cost?
There are many factors that go into a price estimate for a Dynamics 365 Finance implementation.
First, there is a subscription cost for Dynamics 365 Finance licenses. Once you have determined the amount of users you need and the level of license per application(s), then you can calculate the cost for licensing. Dynamics 365 is a Software-as-a-Service model, meaning you will pay a per-user/per-month fee to use the software. The benefit of a SaaS solution is that you're always working on the latest version of the software, and ongoing software updates/upgrades are included in the cost. The price per license will vary depending on the application module(s) and level of functionality needed.
Then, there is a cost for services. At Arctic IT, we build our implementation project pricing using a defined set of categories such as
Project management
Software customization
Data conversion/migration
Training
Travel (if needed)
We hire and retain quality Microsoft-certified team members to perform the work, so you can feel confident in partnering with Arctic IT.
Arctic IT consistently completes our projects on time and within budget while fully meeting project requirements, providing oversight, and reporting on project processes, metrics, risks, scheduling, and performance. This enables us to tailor our management approach to reduce overhead and costs while still providing a methodical approach with control gates for your Dynamics 365 Finance implementation.
Building strong relationships with ERP implementations
Deploying ERP and budget management in the cloud for a tribal nation
The tribe was ready for a modern ERP solution to serve their diverse business needs. They needed a robust approval workflow to handle their procurement process, and the ability to authorize access for appropriate individuals who make business decisions across the tribal government and diverse economic development corporations. The tribe selected Microsoft Dynamics 365 Finance as their ERP solution of choice and partnered with Arctic IT to implement the application, including data migration, accounting, financial assistance, and case management systems.
Implementing a cloud ERP and Business Management System for a tribal nation
"Arctic IT's knowledge of the Microsoft Government Cloud, Azure, Dynamics, and Office 365 provided our team insight at every step of the way. They have been a great partner to HUD in its modernization efforts."
Choose a Microsoft Gold Partner
A reliable Microsoft Gold Partner like Arctic IT can be the difference in your Dynamics 365 Finance implementation. Whether it's Dynamics 365 or any of the other Microsoft cloud products, we have the team you need to get the job done right.
If you're ready to make the move to Dynamics 365 Finance, contact us today for a discovery call and receive a complimentary quote.
"*" indicates required fields